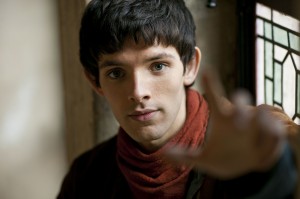 In a land of myth and a time of magic… the destiny of a great kingdom rests on the shoulders of a young man. His name… Merlin.
Swords, Sorcery and swashbuckling adventure rule in the hit BBC series, Merlin. The Complete Collection brings together all five series on DVD, as we follow the young warlock Merlin, as he attempts to fulfil his destiny at the side of the once and future king; Arthur (Bradley James). Featuring a stellar cast including Angel Coulby, Katie McGrath, Anthony Head, Richard Wilson, and John Hurt as the voice of the Dragon, The Complete Collection tells the epic story of the golden age of Camelot. Featuring superb action sequences and stunning CGI captivating the imagination as never-before-seen.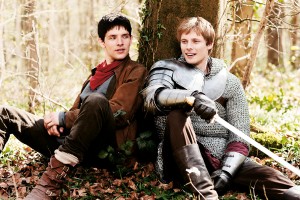 The instant appeal was obvious because in this production there was something for everyone. A good-looking cast, sexy knights, dragons, treachery, heroes and the on-going 'bromance' between Merlin (Colin Morgan) and Arthur (Bradley James). The clever, quick-witted and cute Merlin helping the dim but kind-hearted (and sexy) future king rule the kingdom and keep Camelot's foes at bay was a constant joy. Fights and magic ran side-by-side with naked torsos and betrayal… you never really knew what was coming (I'll forgo the innuendo here) in each episode.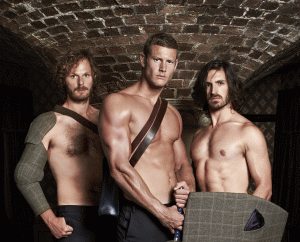 Since its launch in September 2008, this ambitious BBC drama has grown to become one of the most loved and most watched programmes on television. The show's creators, Julian Murphy and Johnny Capp, have pushed in equal measure both the plot development and the special effects, benchmarking the show's advanced CGI content against the best from Hollywood.  It worked, with over 100 countries around the world licensing the show and huge DVD sales, together with an explosion in branded Merlin games, toys, a Merlin Magazine and a Merlin themed 'Dragon's Tower' at Warwick Castle.
So, if you missed this televisual experience or just want to ogle those horny knights stripped down and fighting for their lives again, you can now get all 5 series in a 27 discs boxed set. That's 47 hours containing every episode and bonus features including out-takes and cast interviews.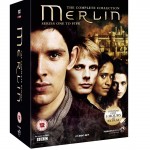 Comments via Facebook
comments