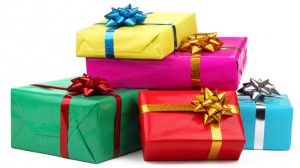 When the first adverts for Christmas appeared on TV at the end of October I was at first horrified, then realised that it was actually a reminder to get my finger out and search for those little goodies as 'special' Christmas gifts.
Last year I left my online ordering too late and half the stuff didn't actually turn up until the New Year. This time I've made a note to search Amazon and every other site to get my 'bits and pieces' ordered and delivered before the event.
The usual 'big' pressies, I'll get as normal well in advance, I'll even be ordering that special sexy pair of briefs for my man well in advance so that I know they haven't sold out when I need them (it happened last year and I was devastated to be wondering around the shops trying to find something similar… I failed).
No, what I'm looking for is an array of 'special', 'silly' pressies that I can have ready to distribute at a moment's notice. You know, a sudden Secret Santa situation, or an unexpected party invite, or perhaps, that couple who you only see once a year but always brings you a card and some 'thoughtful' gift and you have nothing in return… well not this year.
Drinking games, fun novelties, sexy calendars, silly/naughty but nice body paint (who doesn't like chocolate spread all over their person (?) and a host of other little bits and bats are now waiting to be distributed… but get this. I make sure that each gift is something I would find useful and then, should no one turn up unexpected in search of some Yuletide gift, I can have them all to myself and bask in the glory that I was prepared… and now I've got a few extra presents for me and my partner to enjoy.
Now that's planning ahead.  http://shop.bent.com/novelty.html
Comments via Facebook
comments