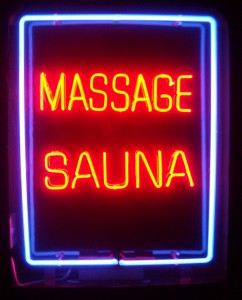 It's amazing who you bump into at the sauna. Not necessarily the one at your local gym but the more specialised ones that cater for man on man action.
I want to confess – I'm 21 and over the past 3 months I've seen (and had sex with) one of the doctors who is a partner at the local surgery, an ex-teacher of mine and… my uncle. The doc and teacher had no idea who I was but seeing my uncle was a bit of a shock.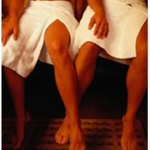 He didn't seem worried at all about seeing me and confided that he and my aunty had been leading separate lives for over 10 years. I seemed very approving of my gay lifestyle and I had to confess that he was the only one who now knew my 'secret'. We had been happily chatting in the sauna for a while, so when he suggested we moved to somewhere a bit more private to continue our conversation it seemed only natural. After a short search we ended up on one of the 'lockable' rooms in the cellar where he kissed me and fondles my cock… it was very nice. 
To begin with I was very nervous and a bit reluctant but he soon put me at ease. Uncle David was brilliant – understanding, funny, loving… hell,  I loved everything that was happening. He was gentle, teasing and cajoling all at the same time. I think he knew what he wanted but let me reach the same place where he was in my own time. I let him lead and even when I had his thick cock in my mouth he was gentle, if very persuasive.  
We were in that cubicle for a very long time, several people tried the door attempting to get in and join us. I suppose my constant moaning and squealing attracted the attention. However, Uncle David never let up and I let him do whatever he wanted to do so, even when he pushed my legs over my head and shagged my well moistened butt I was ready for it to happen.
It was the first time with Uncle David but it will certainly not be the last.
Tim, Camden
If you have a confession you'd like to share, please send it to editor@bent.com
Comments via Facebook
comments