A TOUCH OF LUXURY – LANGDALE ESTATE, LAKE DISTRICT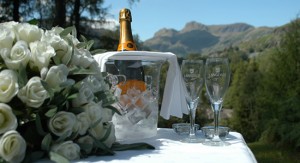 Adam Lowe checks out some serious luxury in the woods, as he visits Langdale Estate in the Lake District.
The 56 rooms of Langdale Estate offer a bespoke 4-star experience in the heart of the Lake District. Expect the finest Egyptian cotton linen, down duvets, deep bathtubs and lavish features.
Heather, tarn and gunpowder provide the inspirations for the Lakeland Signature Rooms, which are located by the spa and restaurant, among the trees of the Langdale woodland.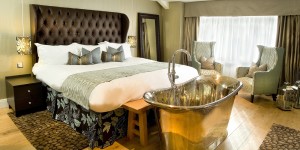 If you want a room beside the picaresque views of the Great Langdale Beck, the Waterside Rooms are just the thing.
Feature rooms include the Attic Room, with a hand-crafted copper roll bath inlaid with nickel and uplit from below by soft amber. The three ultimate rooms are sexy and sleek, with masculine, decadent furnishings and exciting colours.
Langdale Estate also offers a range of self-catering lodges, cottages and apartments, suitable for groups and families. These would make the perfect location for weddings (Langdale is fully licensed for weddings and civil ceremonies) or New Year's Eve parties, and the Langdale Spa will help set you right after any urban excesses.
Signature rooms start at £155 per room, feature rooms start at £195 and ultimate rooms start at £225.
Langdale has a number of restaurants, including Purdey's, The Terrace Restaurant, Hobson's Bar and Wainwright's Inn. These range from fine cuisine (Purdey's) to lunchtime meals and snacks (The Terrace) to pub grub (Wainwright's Inn).
New to Langdale Estate is the brand new Brimstone, a 'beyond boutique' hotel. Although we only got a brief glimpse round the venue, it boasts 16 rooms and suites with top of the range fixtures and fittings, and highly personalised service.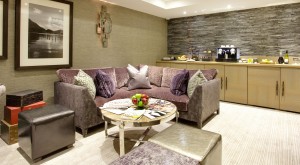 The host team greets you from arrival, and provides everything you need for your stay. It's entirely possible not to leave your hotel room at all, with giant baths you could get lost in, top-range entertainment gadgets and even a communal reading room with complementary drinks (including alcohol) and snacks. Brimstone has just been shortlisted for 'Design Hotel of the Year', and it's clear to see why. Rooms in Brimstone start from £250.
http://www.langdale.co.uk / http://www.brimstonehotel.co.uk/
Comments via Facebook
comments