Bent Fiction – Noises Off by Les Lea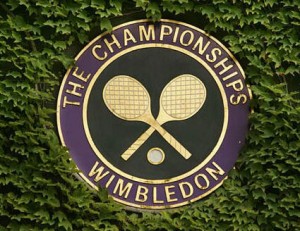 I thought I recognised that particular grunting sound and it was coming from the television. There, dressed immaculately in white shirt and shorts, and playing on Court 18 at Wimbledon was the guy I'd shagged all night long a couple of days previous.
The BBC were showing highlights from the day's competition and this new, unsung East European had beaten one of the top seeded players. There is obviously something very sexy about tennis players, all that stretching to serve, stretching to reach a return, the sweat. The way their shorts hang low and loose on the hip, tight around their bums and that delightful brief naked shot of a tight abdomen when they serve sets my pulse racing and my cock into a life of its own.  Sometimes, the way they keep the extra tennis balls in their pockets gives an outrageous outline when you can only smile… and wish.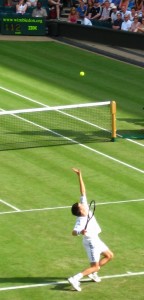 I've always liked tennis but had not really taken it very seriously except for that two-weeks of frantic action at the quaintly named 'All England Lawn Tennis Club' down in SW19. Now, as I watched the re-run of the action where he bounded around the court making almost impossible returns to his poor, under-siege American opponent I remembered actually where I picked him up.
Like me he was cruising on the Heath and getting a lot of attention but he seemed to be searching for someone special. The young lads were almost throwing themselves at him as he slowly moved through the wooded area, tall and casually dressed in his navy blue baggy shorts but with a tight pale blue polo shirt. His muscles looked pronounced and his bum was making those shorts swivel with each step. It was a very knowing, confident walk but quite unlike anything I'd seen before but, as I approached him, he slowed down and smiled. That was the only invitation I needed and I beckoned him to join me in a much woodier area. He smiled again and in broken English asked if I had a place where we could go. He was stunning, so, all my natural reserve and suspicion evaporated as we left the Heath and headed for a taxi home.
As I now watched the TV, spell bound at the sheer athleticism and determination of the guy, I remembered just how insatiable and untiring he had been taking my 8" thick cock down his throat and up his arse. The noise of appreciation as my cock entered him was such a turn-on it encouraged me to ride his gyrating hips with as much power and vigour as I could muster. He was equally as enthusiastic and diligent when shagging me. His cock was perhaps not as large as mine but oh so much thicker. He seemed to have reserves of power, passion and enthusiasm that kept him going for most of the night, whilst his 'unique' grunting noise as he neared orgasm each time added to the unusual sexual atmosphere.
Apparently this new 19 year-old sensation was destined to be the 'next big thing' but it tickled me to know he already was, and that I'd already done some seeding of my own.
Comments via Facebook
comments