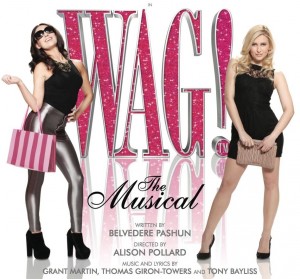 WAG! The Musical follows a day in the life of best friends Jenny and Sharron, two working class girls making ends meet working on the cosmetics counter of a bustling high end departmental haven.
Encountering daily the widest range of customers, from the aspiring plain Jane to the all-conquering entourage of WAGs, Jenny longs for escape and fulfilment.  As mistress to a premier league superstar, she has tough decisions to make, whilst girl-next-door Sharron battles to retain her friend and control her own reciprocated and forbidden affections towards a new colleague. Added to the mix is an array of adulterous males, scandal, and fading hopes of lasting happiness. All of which is lorded over by an acidic queen, and played out against the backdrop of a red carpet fashion launch extravaganza!
The show stars Tim Flavin, who was the first American actor to win a Best Actor Olivier award for his performance in Rodgers and Hart's On Your Toes. While Ariadne the Greek Wag (special guest star) is the creation of Alyssa Kyria. Ariadne is a regular host, act and headliner on London's comedy and cabaret circuit. She was a Jongleur's New Act Semi-Finalist in 2011; Hackney Empire Comedy Finalist in 2010; Funny Women Best Character Act Semi-Finalist 2009; and one of The Londonpaper's Top 10 Funniest People in London the same year.
WAG! The musical. 18th July – 24th August   www.wagthemusical.com  
Charing Cross Theatre
(formerly New Players Theatre)
The Arches,
Villiers Street
LONDON
WC2N 6NL
Comments via Facebook
comments