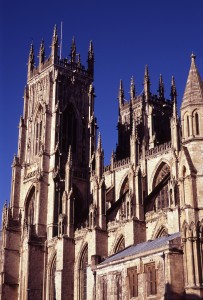 It bore Guy Fawkes, and Judi Dench – but it won't bore you! Bent's Adrian Gillan hits student-brimming York – almost exactly 800 years after King John granted it city status.
From Roman Eboracum to Viking Jorvik, from the Normans and the Plantagenets to modern-day tourist and student hoards: the small city of York may not have the scenes of Yorkshire brothers Sheffield and Leeds, but has heaps more heavy-weight history, with a capital 'H', plus a queer charm all of its own!
SEE & DO
On arriving by train, where better to head first than the National Railway Museum (www.nrm.org.uk), the largest of its kind in the world, a short chug over the tracks from the station? Then get your bearings with a pleasant stretch of the 2½-mile stroll around the fine medieval City Walls, encircling the 'old city', before popping into the odd tower, or gatehouse (a.k.a. 'bar', though not of the gay kind!) plus majestic York Minster (www.yorkminster.org), one of the world's great Gothic cathedrals. Fast-forward to the Viking era, brought alive – sight, sound and smell – at the award-winning Jorvik Viking Centre (www.jorvik-viking-centre.co.uk), with its vivid reconstruction of 10th Century York. Kids'll dig DIG (www.digyork.com), learning how archaeology literally uncovers layer upon soily layer of history.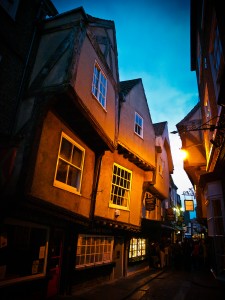 Explore York's delicious connection with chocolate at the highly-interactive York Chocolate Story (www.yorkschocolatestory.com); peruse the free-entry Art Gallery; browse the shops and cafes in the famous Shambles, an ancient commercial street recorded in the Domesday Book; then get yet more history at the Yorkshire Museum (www.yorkshiremuseum.org.uk) and the Richard III Museum (www.richardiiimuseum.co.uk). Join any number of themed walks (eg www.yorkwalk.co.uk), by the light of day, or by spooky night; or simply hop on/off a City Sightseeing Bus Tour (www.yorkbus.co.uk), or step aboard a boat ride (www.yorkboat.co.uk) on the River Ouse in season.
Take in a play at the gorgeous York Theatre Royal (St. Leonard's Place, York YO1 7HD; T: 01904 623568; www.yorktheatreroyal.co.uk) or its lovely little adjoining studio theatre.
Whilst in the region, you might even make the ¾-hour train ride north of York to spectacular Durham!
SCENE
A bar plus a few club nights, all very central. York Pride takes place June/July: www.yorkpride.org
•    Yorkshire Hussar (15 North Street; www.yorkshirehussar.co.uk) – "straight-friendly", quiz on Tues.
•    OUTrageous (@ Vanity, 10a New Street; www.vanitygrill.co.uk) – vibrant LGBT club night on Fris.
•    Camp David (@ Mansion, 53-55 Micklegate; www.facebook.com/Mansion.York) – club night Suns.
•    Sinday (@ Tokyo, 3-5 Toft Green; www.tokyo-york.com) – uber-chic LGBT club night on Suns.
STAY
Mere metres from the train station, in the landmark grade-II-listed former Railway HQ, The Cedar Court Grand Hotel and Spa (Station Rise, York YO1 6GD; T: 01904 380038; www.cedarcourtgrand.co.uk) is York's first 5-star hotel and offers pure class, with a friendly touch. Built in 1906, recently lovingly restored, The Grand aims to, and succeeds in, "reviving the luxury and splendour of the Golden Age of travel", affording the perfect launch pad from which to explore this beautiful and historically dramatic city.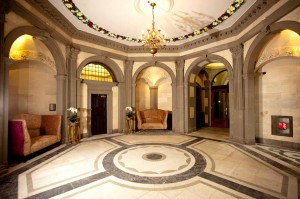 Hang out at the pool, or treat yourself to a massage in the spa. Take afternoon tea in HQ, fine-dine in The Grill Room or take a night-cap in the Whisky Lounge. Relax in your spacious room, maybe even upgrading to an executive affair.
The Cedar Court Grand is also taking part in the 'York Wrapped Up' winter getaway promotion, running 5 Nov – 28 Mar inclusive – offering 2 nights, with one free dinner-for-two plus other plush perks, subject to availability. More at: www.visityork.org/wrappedup
•    You can reach York from London in under two hours by East Coast trains, for as little as £13 one-way. Why not treat yourself and upgrade to first class for extra comfort and East Coast's celebrated at-your-seat service? For times and fares, plus bookings, visit a staffed station or www.eastcoast.co.uk, or call 08457 225225.
•    For a full list of York events, and to book your York break, visit www.visityork.org; or call Visit York Information Centre (1 Museum Street, York, YO1 7DT) on 01904 550099; or email info@visityork.org
•    The York Pass (1, 2 or 3 day) offers you a choice of free entry into over 25 York attractions and tours, plus discounts at restaurants and shops. To buy one, telephone York Visitor Information Centre on 01904 550099, email info@yorkpass.com or visit www.yorkpass.com
Comments via Facebook
comments