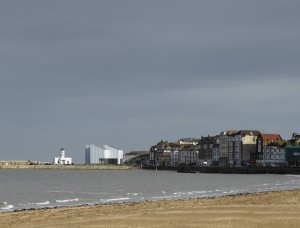 Photo: Visit Kent
From the history of the Medway Towns to the seaside frolic of the Isle of Thanet, Adrian Gillan finds that the north coast of Kent – the 'Garden of England' – is full of low hanging fruit!
From Normans and Dickens in the Medway Towns, to esplanades and Tracey Emin on the so-called 'Isle' of Thanet, your days will be full! Likewise your nights: you'll soon develop a Kentish lad fetish!
Medway history: Rochester & Chatham
As you head out of London, along the north Kent coast, you soon hit the Medway Towns.
Equally near to both Rochester and Chatham, the modern, comfy 4-star Bridgewood Manor Hotel (Walderslade Woods, Chatham; T: 01634 201333; www.qhotels.co.uk/hotels/bridgewood-manor-chatham-kent.aspx) makes the perfect base! Set around a courtyard, its mock-manor vibe soon wins you over as you relax in the spa; sip a drink at the bar; or dine at the Squires Restaurant.
Rochester
In Rochester's largely Victorian High Street, the Guildhall Museum – parts of which are the actual 17th Century guildhall – traces Medway's history, not least its links with ship-building and the navy. The gorgeous Restoration House (17-19 Crow Lane, Rochester; www.restorationhouse.co.uk) is so-named since Charles II stayed here on the very eve of The Restoration! The place also has an amazing garden and is brimming with fab pics by Reynolds, Gainsborough and Constable too! Founded in 604AD, Rochester Cathedral (www.rochestercathedral.org) is the second oldest in England. The high Norman keep of Rochester Castle (www.english-heritage.org.uk) lies nearby, built upon the old Roman city wall.
The Ship (347 High St, Rochester; www.theshiprochester.com) claims to be the oldest gay-wooing pub in Kent, offering three bars plus cellar area, plus lots of karaoke, drag and quizzes. Good pub food too.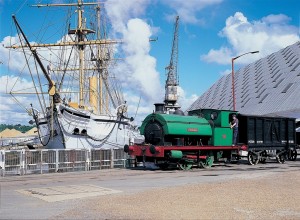 Photo: Visit Kent
Chatham
Easily reached by super-regular shuttle bus from Chatham rail station, the 80 acre Chatham Historic Dockyard (www.thedockyard.co.uk) – where HMS Victory was built – boasts 400 years of history, with stunning old architecture, ships, subs and such. Nearby, Dickens World (www.dickensworld.co.uk) brings the great writer's 19th Century to life, along with many of his best-loved stories and characters, via a range of attractions – from the Great Expectations Boat Ride, to a Victorian School complete with nasty schoolmaster, to a haunted house experience!
Lively Coyotes (12b New Road Ave, Chatham; www.gaycoyotes.com) is Chatham's gay bar-club hub!
Thanet fun: Ramsgate & Margate
The 'Isle of Thanet' ceased to be an island hundreds of years ago, but still boasts lots of seaside japes – not least in Ramsgate and nearby Margate.
Made up of adjoining 18th Century Georgian Grade-2-listed townhouses, on a lofty cliff-perched crescent, the Royal Harbour Hotel (Nelson Crescent, Ramsgate; T: 01843 591514; www.royalharbourhotel.co.uk) offers compact, quirky and well-equipped rooms, many boasting magnificent views out over Ramsgate Harbour, marina 'n Channel – some with balconies! Free Wi-Fi throughout! Homely art-brimming lounge area and outdoor terrace! Amazing breakfasts! Charming staff, not least hunky David and feisty Jill! Honesty Bar! Even a complimentary evening cheese board!
Ramsgate
The Georgian-terrace-brimming seaside gem of Ramsgate sits on cliffs, with a sandy beach, boat-bobbing marina and busy harbour below, still bearing witness to the town's history – from fishing village, to popular 19th Century resort, to bustling 20th Century port, and now largely back to leisure and tourism. Ramsgate Maritime Museum (Clock House, Pier Yard, Ramsgate; www.ramsgatemaritimemuseum.org) focuses on the growth of the harbour, plus life-saving and shipwrecks, plus the Dunkirk evacuation.
Set in a charming Victorian warehouse in a secluded courtyard near the harbour, ambient café-bar-restaurant Age & Sons (Charlotte Court; T: 01843 851515; www.ageandsons.co.uk) offers à la carte, plus ace-value set menus, of fine British food.
Gents oft take airs of an eve in and around the King George VI Memorial Gardens a short stroll north.
Margate
Margate is a popular coastal resort with harbour and sandy beaches, all close to the rail station, plus a surprisingly attractive old town just back from the front.
On the front itself, the new Turner Contemporary Gallery (www.turnercontemporary.org) has done much to reinvigorate a city that inspired JMW Turner and Tracey Emin. Also enjoy the Shell Grotto (Grotto Hill, Margate; www.shellgrotto.co.uk) – reputedly mysterious underground rooms and passages covered in shell mosaics.
Sundowners (1 Albert Terrace, Margate; www.sundownersclub.moonfruit.com) is the gay joint, near Clock Tower and beach.
•    For more information: www.visitkent.co.uk
•    All parts of Kent are easily reached by Southeastern rail out of central London. For times, fares, special offers and bookings: www.southeasternrailway.co.uk
Comments via Facebook
comments