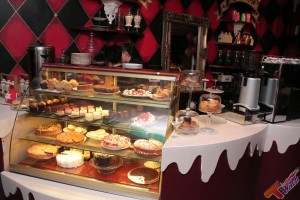 The Richmond Tea Rooms arrived in Manchester's gay village last year, and since then it has become a delightful example of the trendy new gay and gay-friendly venues opening off Canal Street, bringing with them their own distinct character as destinations for those with more refined (and ostentatious) tastes.
The Richmond Tea Rooms, above Eagle and behind The Lodge, is a decadent tea room, serving freshly baked cakes and a wide range of teas (plus a few cocktails, should you feel the need to treat yourself!). The tea room is all cushions, quirky artwork and gingham, perfect for your inner queen. Lavish touches such as an indoor glasshouse only add to the charm.
Offering homemade soups and sandwiches, breakfasts and brunches, and high tea whenever you feel the need, The Richmond Tea Rooms are a little slice of Wonderland in Manchester.
Richmond Street, The Village, M1 3HZ
Comments via Facebook
comments