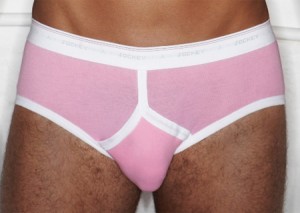 By Jorge Treviano
When I was a kid at school, as far as I can remember, I was the only lad who ever wore pink underpants. I just loved those pink nylon briefs , they gave me pleasure to look at and an oddly 'daring' feel when wearing them. Needless to say, my colour choice was ridiculed and I had various hurtful (if later to be found accurate) comments and name calling aimed my way. So, as a young but not overly confident young boy I didn't like the things being said about undies and quickly returned to wearing the majority white briefs. Thankfully, things have changed and I'm sure now, even in the school changing room, colourful pants rarely raise an eyebrow.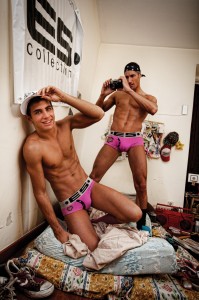 So, pink briefs, for decades the butt of jokes and the joke of butts, has, in the last few years, turned into a serious business.
Jockey was the first to report that sales of their colored Y-front briefs rocketed by an average of 60% last year – with the baby pink pairs selling more than any other.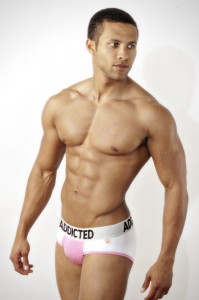 In all their goofy glory, briefs in bright colours including pink, are undermining the classic white brief's long-held domination below-the-belt.  In fact, while sales of traditional briefs have been down for the last few years, nontraditional styles in boxer briefs, bikinis and thong styles have all been way up.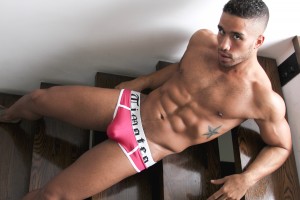 It's not just gay men buying them either. Straight men (and the girlfriends and wives who buy for their men) are buying them at higher rates than ever.  However, it is gay men (and celebs like Justin Beiber and Ashton Kutcher) who are the more-daring consumers of new styles – willing to experiment with the newest styles before they become trends.
Pink's popularity makes sense. Pink brightens and warms up pale skin tones.  It also contrasts nicely with darker skin.  Also, as one underwear retailer said:
'When the economy's gloomy, shoppers tend to make small, often unconscious, decisions in their consumer habits and buying fun pink briefs helps lighten their mood and brighten their day.'
Comments via Facebook
comments