Getting Higher with Lachie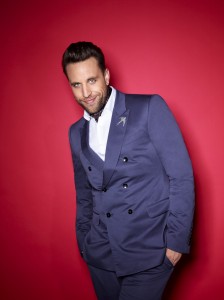 The Overtones debut album 'Good Ol' Fashioned Love' proved to be a surprise smash hit when released late in 2010. Having accumulated over half a million sales to date, and reaching #4 in the UK album charts, the boys Lachie, Mike, Darren, Mark and Timmy are much in demand. With the release of a new album this month and the start of a massive UK tour in November, Bent took the opportunity to chat with amiable Aussie member Lachie Chapman about life in the band.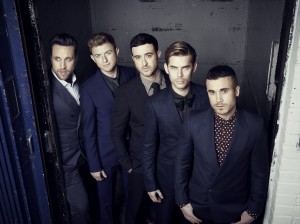 Where and when did you guys meet? It can't have been at a 50s and 60s musical appreciation weekend… can it?
Ha! Nothing quite so glamorous I'm afraid. We met each other on the open mic scene in London and became friends. We had a sing together and liked how it sounded so decided to become a group. That's the real short version of course.
After the success of the first album, what can we expect from the new one?
We obviously have a lot to live up to after that success. 'Higher' has been a real labour of love for us. We've worked really hard to progress, grow and push the boundary of what we do, while making sure we keep the elements people loved about the first album. There will still be lots of good ol' fashioned loveliness but there will also be a few surprises in there too. We're very proud of what we've ended up with.
Is there a track (tracks) that you are particularly proud of?
For me all the tracks are important in one way or another but I guess 'Higher' is a track that has a special place in my heart. We all brought a little to that song without knowing what each other was doing, we were able to piece the song together from all our ideas… and it's good to dance to!
You seem to have been involved in all aspects of this year's celebrations – from the Queen's Jubilee to the Olympics… is it just because no one can stop you from performing at a camp celebration?
Well, we just love a good doo! It was a complete honour to be asked to perform for the Queen's Jubilee and then the Olympics. I'm not sure you can call them camp though… we'd be up for the next Abba anniversary/celebration I'm sure.
Were you involved in any of the pride events?
Not this year no. We'd love to perform at pride events… so, let's just throw it out there…EuroPride…let's set our sights big!
You're about to launch yourselves on a massive tour, how do you feel about that?
Excited, nervous, proud… lots of things… we love touring. It's the front line of what we do. To see an audience react to our songs and performance is just amazing. It means the world to us that people come to see us so we make bloody sure we show them a great night!
When you are in such a busy band are relationships the first things that suffer?
God no!! The first thing that suffers for me is my sleeping pattern. It's not easy living on three hours sleep a night, then getting up to do morning TV at stupid o'clock! It's just a good thing we love it so much!!
Have any of your audience shouted out for you to sing 'Teenage Kicks' or 'Here Comes Summer', thinking you were the Undertones? If not, have you thought about including them?
That's never happened. We get the odd person that shouts "You're from the Undertones", we just smile and either correct them or wait to see if they have any gifts for the Undertones that we might like.
So, what's next?
World domination! Mwah ha ha haaaa.
The album 'Higher' is out now and their tour dates can be found at: www.theovertones.tv/
Comments via Facebook
comments