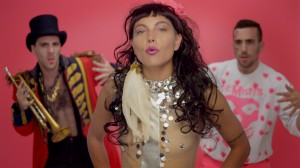 With a hugely brassy sound, grooving drums and infectious 'womping' this threesome stormed the UK's festival scene last year. More recently the London-based big band went straight to the UK chart top spot, heading off competition from the likes of Rita Ora, with their track 'Bom Bom.' Ryan Houston caught up with Lady Oo of Sam & the Womp to find out what she thinks of the bands recent success.
OK… 'Bom Bom', what's it all about?
The song is something completely different. It was meant to be something supersonic, with rave from outer space, to set the dance floor ablaze with feral womping! I think we've achieved that…
How did it feel to reach Number One in the chart with your first release?
It's been a surreal magic carpet rollercoaster ride. We've been womping at festivals and underground venues for about 4 years, and it's been amazing, but we never expected it to blast the charts like this. And that's exactly what it did, it just seems to be taken by all the fans so well and even those that didn't want to like the song, couldn't help but dance along to it.
What's next for the band?
We're always writing and recording new material, and in the next month we will be driving in our 'wompmobile,' zooming up and down the country coming to venues near you!  So come and get your womp on with us Bent readers!
Tickets are now on sale for the band's first UK tour throughout November and December – for more information check out their website: www.samandthewomp.com
The single 'Bom Bom' is still available from Stiff Records.
Comments via Facebook
comments