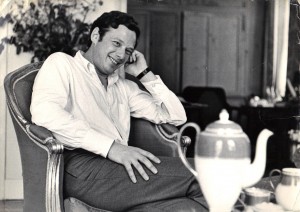 Photo courtesy of Katie Hickox.
The producers of the long-awaited new production 'EPSTEIN – The Man Who Made The Beatles', have announced that the play is now officially part of Liverpool's established annual Homotopia international arts festival, which runs throughout November in venues across the city.
Gary Everett, Artistic Director of Homotopia said "Homotopia is thrilled to be involved with the forthcoming EPSTEIN production. Andrew Sherlock has written a very stylish piece and we are proud that it's one of the brand new commissions at this year's Homotopia festival. Brian Epstein was a true genius who made a significant contribution to popular culture. The play is a timely reminder of this."
The two-hander multi-media play charts Brian Epstein's adult life and illustrious career from his drama school days to managing the world's biggest pop group. Brian's short life was crammed with success and controversy; an intelligent but closeted gay man whose presence, taste, vision and passion left a lifelong impact on the world. Brian died in 1967 of an accidental overdose at the age of 32.
'EPSTEIN' is the opening highlight of the newly refurbished 380 seat Epstein Theatre (formerly The Neptune) named after Brian and will raise the curtain from 15 Nov – 1 Dec 2012.
The play is also part of the official programme of Liverpool's 50th Anniversary of The Beatles.
www.epsteintheplay.com.
Comments via Facebook
comments