THE AWAKENING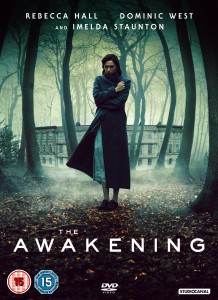 The film is set in 1921, in a post-war England where many of the bereaved seek solace in spiritualism. Haunted by the death of her fiancé, we meet Florence Cathcart who is committed to debunking supernatural claims, using methodical and rational explanations. When she is asked to visit a boarding school in the countryside called Rookwood – to investigate the alleged sightings of a ghostly young boy – she feels compelled to take the job. Once at the school, she sets to work, laying traps and gathering scientific evidence. Gradually secrets begin to unravel and the mystery surrounding the ghost appears nothing more than a schoolboy prank. As Florence is set to leave, however, she experiences a chilling encounter that defies all reason.
Out: 26th March – Studio Canal
For a chance to win a copy of this DVD, just answer this question:
World War 1 lasted from 1914 to which year?
CAPRICE
Doris Day plays Patricia Fowler, a spy hired to work undercover at a cosmetics company to discover a new formula that the firm is planning to market. But it soon transpires make up is not the only product they're selling, the company is involved in an international drug-smuggling ring and Patricia finds herself doing battle with ruthless agents. She joins forces with fellow spy Christopher White (Richard Harris) as the pair take on evil genius Stuart Clancy (Ray Walston). This 1960s spy spoof keeps up the laughs and suspense right to the very end.
Out: 5th March – Second Sight
For a chance to win a copy of this DVD, just answer this question:
Complete the title of this Doris Day hit song – Move Over ___________?
EATING OUT –  THE OPEN WEEKEEND
So you thought the Eating Out series couldn't get any sexier? Couldn't get even more outrageous? Think again! Zack and new hot boyfriend Benji need a vacation and where could be better than a hot, all-male resort in Palm Springs?   They decide that if they are gonna head out to Palm Springs perhaps they should also open their relationship – just for this one weekend, of course. Although Zack is less than thrilled with the idea, he is eager to keep his new beau happy and, after all, his sex-drive is as vociferous as ever! It should go without saying that they're heading for a vacation abounding with fit men, jealous exes and, well, tonnes of sex!
Out: 26th March –  tla releasing
For a chance to win a copy of this DVD, just answer this question:
Palm Springs is in which State in the USA?
GAME OF THRONES: The Complete First Season
Combining a mythical kingdom with a generation of family feuds, bloody war, treachery, murder, lies and lust, Game of Thrones has defined a world so unique, complex and compelling that any preconceived notions of the genre fall away. It has created an accessible fantasy epic for the small screen, which became the most watched show on Sky Atlantic this year.  The drama follows kings and queens, knights and renegades, liars and noblemen as they vie for power in a land where summers span decades and winters can last a lifetime. Powerful families are engaged in a deadly cat-and-mouse game for control of the Seven Kingdoms of Westeros. As betrayal, lust, intrigue and supernatural forces shake the four corners of the Kingdoms, their bloody struggle for the Iron Throne will have unforeseen and far-reaching consequences.
Out: 5th March – HBO Home Entertainment
For a chance to win a copy of this DVD, just answer this question:
Game of Thrones was shown on which UK TV channel?
LOVE NEVER DIES
Yes, it is the follow-up to the hugely successful Phantom of the Opera and we pick up 10 years after his disappearance from the Paris Opera House. The Phantom has escaped to a new life in New York where he lives amongst the screaming joy rides and freak-shows of Coney Island. In this new electrically-charged world, he has finally found a place for his music to soar. All that is missing is his love – Christine Daaé. In a final bid to win back her love, the Phantom lures Christine, her husband, and their young son Gustave from Manhattan; to the glittering and glorious world of Coney Island… not knowing what is in store for them…
This much acclaimed Australian production will literally take you on a white-knuckle ride of emotions
Out: 12th March – Universal Pictures
For a chance to win a copy of this DVD, just answer this question:
Who wrote the music for Love Never Dies?
THE EROTIC FILM OF PETER DE ROME
In the late 1960s and early 1970s British-born New Yorker and unsung hero of gay underground filmmaking Peter de Rome produced a number of explicit, painstakingly crafted Super 8 films each of which took the viewer on an immersive sexual journey. In 1973, eight of these films were brought together as The Erotic Films of Peter de Rome producing one of the finest cinematic examples of the intersection of artistry and eroticism, in the tradition of Andy Warhol and Kenneth Anger. Now released on DVD for the first time, these extraordinary films are accompanied by a new BFI documentary, additional short films and a comprehensive booklet with new essays and film credits.
Out: 26th March – BFI
For a chance to win a copy of this DVD, just answer this question:
Soho used to be the seedy side of which European capital city?
MACHINE GUN PREACHER
Drug-dealing biker Sam Childers (Gerard Butler) emerges from prison, seemingly intent on returning to his boozy, violent ways. Following a trip to East Africa and after witnessing horrifying violence atrocities, he embarks on a life-changing mission as the machine gun-wielding protector of refugee children in war-torn Sudan leaving his best friend Donnie to take care of his wife and daughter. Sam leads dangerous armed missions deep into enemy territory, which has explosive and gripping consequences.
Out: 19th March – Lionsgate
For a chance to win a copy of this DVD, just answer this question:
What is the name of East Africa's highest mountain;
A, Kilimanjaro. B, Etna. C, Ben Nevis.?
THE RUM DIARY
This tells the increasingly unhinged story of itinerant journalist Paul Kemp (Depp). Tiring of the noise and madness of New York and the crushing conventions of late Eisenhower-era America, Kemp travels to the pristine island of Puerto Rico to write for a local newspaper, The San Juan Star, run by downtrodden editor Lotterman. Adopting the rum-soaked life of the late 50's version of Hemmingway's lost generation, Paul soon becomes increasingly obsessed with Chenault, the wildly attractive Connecticut-born fiancée of Sanderson, a businessman involved in shady property development deals.
Out: 5th March – Entertainment in Video
For a chance to win a copy of this DVD, just answer this question:
What is the capital of Puerto Rico?
THE STRANGER IN US
In this poetic debut feature, director Scott Boswell explores the pleasures and perils of losing and regaining oneself through the journey of a young gay man in the wake of a  traumatic breakup. Small-town Anthony follows his heart to San Francisco, eager for domestic bliss with new boyfriend Stephen. Soon Anthony faces a waking nightmare as their volatile relationship reaches the breaking point. Isolated and financially strained, Anthony takes to the night-time city streets where he meets a strange and alluring cast of hook-ups and wanderers. When he befriends a precocious, young street hustler named Gavin, Anthony finds the human contact he craves, yet his inner struggles continue to engulf him.
Out now – tla releasing
For a chance to win a copy of this DVD, just answer this question:
What is the name of the famous island prison set in the San Francisco Bay?
Comments via Facebook
comments